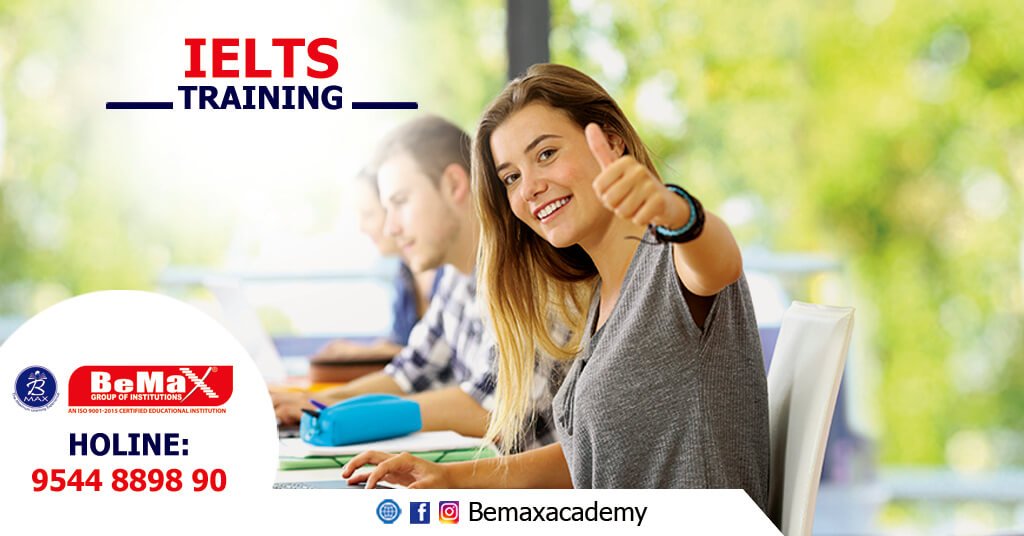 Stress Free IELTS Training At Bemax
Bemax offers a stress free IELTS learning platform for thousands of students every year. Apart from a regular teaching method Bemax always follow a varied way of training students to make them calm and cool. Our institution always enable every IELTS aspirants to face the exam with confidence.
Always there is best way to learn, like we will do our best towards what we love the most. So when we are enjoying the art of reading, listening, writing, and speaking with regular training the students will be able to pass the exam with flying colors. When ever students get pressure on their education there is a tendency that they may get tensed and fail to show their real talent. But in case of our institution we are providing the students a friendly and calm atmosphere for learning. As a result so many students after acquiring their required score in IELTS exam, they are suggesting our institution to the other people. I have been the student and now the trainer of our institution. Hence I would like to share about both the experiences that I had from Bemax. Before joining the institution I was less aware about the IELTS exam. I came to know about the basic lesson for IELTS exam from Bemax. The trainers were well qualified, very calm, understanding as well encouraging people. I was always welcomed to clarify my doubts and confusions. I felt very happy to attend my session with relaxed mind. I was never worried to attend my class and further sessions. I always felt a deep passion to complete my course and exam with good score. Bemax provided individual attention for every student. Thus, I was trained by knowing my ups and downs. Trainers guided me with appropriate measures.
Being a trainer was also a biggest dream come true for my life. When I was joined I was able to adapt to my new job as it was my greatest passion ever, that is, to teach and learn. Sharing knowledge with the students is the best way for finding happiness in one's life and I am delighted that I could able to feel that happiness. When we are training students, we are also learning in one way or the other. The best day of my life in our institution is that one student came near to me one day, she said she is unable to practice at home and suddenly she started  to cry . I understand her situation and talk to her for sometime. She is a married women with two kids and lot of responsibilities. I advised her to never be tensed, practice the time when you are in classroom and when you reach home she need to take care of her children because that is also one of her primary concern. I added when someone being unmarried and having no responsibilities it will be easy for them to succeed. But when you being a mother with lot of responsibilities able to achieve the success then your success will taste twice sweeter  for you  than others . Because your success is your identity and your practise worth better outcomes. She became calm and she had a smile on her face at the same time. Being a trainer I think this the best way to understand our students. From that day she tried hard and now she is having 7 and 8 bands overall from 5.5 band that she was having in her initial days. I am feeling very proud for every student having dedication towards their dream. For those who passionate about their future goals and who want to fly with wings to those destination, Bemax is the best place for your support and motivation.
By learning a language we are acquiring knowledge along with personal development. Like Albert Einstein said ' Education is not learning of the facts, but the training of the mind to think',Bemax offers a wide platform for students for their academic training, to share their reviews, motivate them and enhance their talent along with assisting them to pursue their career with strong wings.