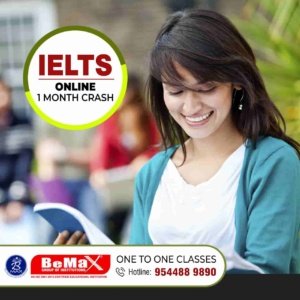 The future of IELTS ,in this pandemic situation, lies in the convenient use of technology and manpower. Distance and time constraint is  not a matter with the advanced technical support from Bemax Academy. We at Bemax provides individual attention to all our students with upgraded materials, experienced teaching faculties and interactive learning platform. Making the very best use of technology ,we are 100 % successful in providing quality education online and ranked among top IELTS Institutes in Kerala and India.
WHY IELTS ONLINE COACHING IN BEMAX???
Right from the inception in 2014,Bemax Academy  successfully fulfilled dreams of 20000+ students and is one of  the best IELTS coaching centre in Kerala and India.
Get trained by the best online IELTS Coaching institute in Kerala and India. Our experienced Online IELTS tutors provides IELTS online classes with sufficient  tips and tricks in getting 7+ band.
We have 1,2 & 3 months online IELTS coaching classes which helps students in achieving their desired scores. With candidates from other part of states ,we have successfully implemented Technique based study patterns for Online IELTS Coaching of our students. Our IELTS Online classes focuses on the weaker areas of students and make sure that they come out with flying colours.
Students for Online IELTS Classes in Tamilnadu, Chennai, Bangalore, Delhi and other states can also enroll in our online classes irrespective of location.
The advantages  of Online IELTS Classes with Bemax includes:
☑️One to one hassle free Online IELTS  Classes
☑️Flexibiliy  in choosing  online class timings  without affecting your daily schedules
☑️ IELTS online classes has wide range of Study Materials with previous and updated  questions
☑️ Best online IELTS coaching institute in Kerala with highest number of students passing with 7+ band
☑️ Experienced Faculties providing updated online IELTS classes  for professionals and students.
☑️Free Mock test
☑️Best Online Coaching classes  in Kerala and India with 100% Success Rate
In-depth coaching for LISTENING,READING,WRITING AND SPEAKING  modules for Online IELTS exams, helps the students to cover each modules with confidence and enhance the English language in an effective manner without  fear, making Bemax Academy the best IELTS online coaching institute in Kerala and India
About IELTS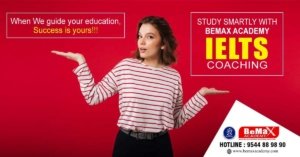 The IELTS Examination is used to measure the linguistic proficiency of people who wish to go for studies or for seeking jobs in countries where English is the medium of communication. The two main providers of the test are IDP and British Council. There are two versions for the test :
a) General – for those candidates who wish to go abroad for job and migration purposes;
b) Academic – for those candidates who want to pursue higher studies abroad. Both the test versions assess the four required language skills – Listening, Reading, Writing and Speaking.
IELTS scores are accepted by more than 3,000 educational institutions and various professional organizations across the globe. The required score band varies according to the norms set based on institution, course and country (for Academic) and based on profession ( for General). In most cases, a band of 6.0 and above is required.
IELTS- FAQ's
Which test provider is better – IDP or British Council? Are there any difference  in the exam patterns by these two providers?
First of all, you need to avoid your confusion related to IDP and British Council. They are joint owners of IELTS. All examiners; whether they belong to British Council or IDP undergo the same training. For example, Listening and Reading modules are marked based on right and wrong answers. So your scores for that two modules will never be affected by the test provider.
When it comes to Writing and Speaking, some of you may be confused by the examiner. But the fact is that the marking criteria followed by both providers are same and all examiners are checked regularly by IDP and British Council. Also, for Speaking test, the whole test is recorded and assessed. So, an examiner cannot mark scores according to his/her own will.
Some of you may worry about the accent as IDP is Australian and British Council is British. But for the Speaking test, the examiner can have any accent as he/she may be from any country. So you can use your own accent in the Speaking test.
What is the validity of IELTS scores?
Till now, IELTS scores are valid for a period of two years for both General and Academic categories. Results expire after two years starting from the test date.
I got only 5.5 for Speaking in my first attempt and I had 7.0 and above for all other modules. Can I retake the test for speaking section alone?
Reappearing for one module alone in the IELTS examination is not permitted as you have to attend all four modules again. But you don't have to worry because if you were able to score 7.0 and above for Listening, Reading and Writing in the first attempt, then you can surely do it again. Just be confident and practice more for Speaking session.
What all documents and materials should I carry with me for the exam?
You should have a valid passport as you cannot attend the examination without your original passport. You should remember to take your passport for both Speaking and main exam. On the day of the main exam, you should take good quality pencils and eraser with you.
Can I choose my own topic to speak about in part 2 of Speaking test?
No, the topic for the task card section in speaking will be given to you by the examiner. You have one minute to prepare about the topic based on the prompts and you have to speak until the examiner tells you to stop.
Many of my friends who took speaking test told me that most examiners don't allow us to complete our answers. Why is it so?
First of all, you have to note that there is a time limit for the examination and the examiner should strictly follow this time limit. Another reason is that the examiner is fully satisfied with your answer and wants to move to the next question. In some cases, certain candidates may deviate from the question topic. So, in all these cases, the examiners may interrupt you. Don't worry about it as you have to focus on the current question given to you and answer confidently.
Can I change the exam dates after getting the confirmation dates for the IELTS examination?
It is possible to change the dates on the basis of medical reasons. In order to reschedule the examination, you should firstly send an e-mail to the test provider stating your valid reasons. There is rescheduling fee of Rs.3000. After paying the fees, you should send a hard copy of your passport along with an original medical certificate and a copy of payment documents by courier or post to the address of the test provider (IDP or British Council).