The Online OET OR Occupational English Test  coaching conducted at Bemax  academy through customized online interactive platform,provides 100% success rate in most efficient manner ,regardless of the time or geographical constraints.From  its competetors,Online OET coaching from Bemax stands out with  its high rate of student success  rate .Experienced faculties,individual attention and flexible time slot selections are the main highlights of  online OET coaching ,making Bemax Academy the best online OET coaching institute in kerala and India.
Why online OET Coaching in Bemax

Right from the inception in 2014,bemax Academy emerged as a leader among best  OET training  institute in Kerala and India.Due to the pandemic situations,classes are being transformed into online with high quality classes and improved technology,making online OET coaching more accessible and affordable for students from around the globe.
The advantages  of Online OET  Classes  with Bemax includes:
☑️One to one hassle free Online  OET   Classes
☑️Flexibiliy  in choosing  online class timings  without affecting your daily schedules
☑️ OET  online classes has wide range of Study Materials with previous and updated  questions
☑️ Best online OET  coaching institute in kerala with highest number of students passing with desired     scores
☑️ Experienced Faculties providing updated online OET classes  for professionals and students.
☑️Free Mock test
☑️Best Online OET  Coaching classes  in Kerala and India with 100% Success Rate
ABOUT OET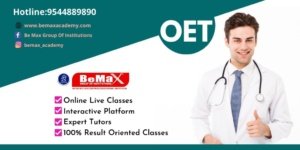 OET or Occupational English Test is used to evaluate the linguistic skills of healthcare professionals for the purpose of registration and practicing in an English Speaking environment. It provides a justifiable assessment of all four language skills – listening, reading, writing and speaking in relation to the communication procedures in healthcare environment.
The aim of the online OET  coaching  is to make sure that the candidate has the ability to communicate with patients, colleagues, doctors etc. and thereby ensures the smooth functioning of the healthcare facility. The health professionals from the following categories are assessed under OET:
Medicine
Dentistry
Nursing
Pharmacy
Veterinary Science
Dietetics
Optometry
Radiography
Physiotherapy
Occupational Therapy
Speech Pathology
Podiatry
Listening, reading, writing and speaking skills of the candidate are analysed in the test. A minimum of grade B is needed in each skill to be accepted by various professional boards. There is a sub-test for each skill area. The Listening and Reading sub-texts are common to all professions and are intended to evaluate the candidate on his/her ability to understand spoken and written English in circumstances connected to general health and medicine.